Dryer Repair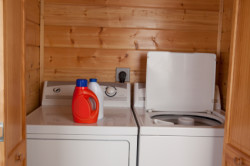 While your first instinct with a broken clothes dryer might be to toss it to the curb and head to the appliance store to purchase a new model, make sure you consider the benefits of dryer repair, instead. Professional dryer repair service is often far less expensive than buying a brand-new appliance. Even serious dryer problems can, in many cases, be solved fairly easily, by repairing or replacing a single component. And when you have the experienced and knowledgeable clothes dryer repair pros at All Appliance Repair at your disposal, you can expect effective and lasting results. We've been serving St. Augustine's homeowners for more than 40 years. We're washer and dryer repair specialists, putting quality workmanship and customer service first on every job. Call or e-mail us today to schedule your appointment!
We're pleased to offer dryer repairs for almost every brand and model out there. Do you need Maytag dryer repair, Frigidaire dryer repair, or LG dryer repair? Whether you're seeking electric or gas dryer repair, we've got you covered. We can resolve issues with dryers that are:
Failing to heat up
Overheating
Failing to tumble
Failing to turn on at all
Giving off strange odors
Making unusual noises
And more
We understand what sets your brand of dryer apart from other models, and we'll tailor our repairs accordingly. We'll always start the dryer repair process with a thorough examination of your unit, so we can pinpoint the source of your problems and provide the most accurate repairs possible. We're fully licensed and insured for dryer repair service, and we hold an A+ rating from the Better Business Bureau as a testament to our unwavering customer satisfaction. We're also proud to have won the Angie's List Super Service Award in 2013. You can breathe easy putting your washer and dryer repair needs in our capable hands.
Emergency Clothes Dryer Repair
In some cases, like when your dryer is overheating, you need dryer repairs as soon as possible. An overheating dryer can be a fire hazard, putting your home and your family in danger. When you require immediate tumble dryer repairs, All Appliance Repair will show up promptly and work efficiently to get your appliance back in proper working order. We care about your safety as well as the convenience and ease your dryer brings to your laundry routine.
All Appliance Repair stands behind our tumble dryer repairs with a 90-day warranty on labor and a 1-year warranty on parts. So what are you waiting for? Contact us now to book your appointment with one of our electric or gas dryer repair specialists, and look forward to getting the skilled service you need and deserve! 
Washer Dryer Repair
Clothes Dryer Repair