LG Dryer Repair
For decades, LG has been a leader in the world appliance industry. As an innovator in electronics and appliances, they make a broad range of high-performance refrigerators, washers, dryers, and more. But even these top-of-the-line products can require a bit of TLC from time to time. And when that's the case with your household's LG dryer, you want to make sure your high-tech appliance is in the hands of true professionals. Your LG dryer repair is a job for All Appliance Repair. We specialize in dryer repair for LG and other major manufacturers, and we're the name you need to know when you want skilled LG repair service. Call us today if you have LG dryer problems!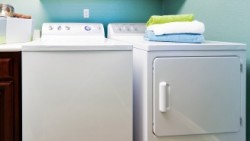 LG dryers are often loaded up with advanced features designed to save energy and ease your laundry workload. That's all the more reason to depend on All Appliance Repair and our specialized technicians when your LG dryer is not heating, is not turning on, or is experiencing another type of malfunction. Our professionals have the expertise to safely provide LG repair service even if your clothes dryer includes the latest advanced technology for steam cleaning and energy efficiency. You can count on us for LG dryer repair service that is both comprehensive and effective. We have been successfully tackling the complexities of dryer repairs for more than 40 years, and we are here to put that expertise to work for your LG dryer service.
Whether your dryer is not heating or your unit won't start, we're ready to help. Contact us at the first indication of LG dryer problems including:
No heat
Not starting
Slow drying
Excess heat
No tumbling
Strange noises
And more!
While these dryer issues are frustrating, don't assume they all warrant a replacement appliance. In fact, in the majority of cases, our skilled dryer repair pros are all that's needed to repair the full functionality of your dryer. We'll apply our broad knowledge of the brand's particular nuances, determine the underlying problem, and put together an LG dryer repair solution that's right for you. For LG gas dryer repair or electric dryer maintenance, we are your one-stop specialists.
LG Dryer Problems
All Appliance Repair is a family-owned appliance repair company, and we are committed to providing our St. Augustine-area customers with the specialized assistance you need to keep your LG dryer in service. We offer LG dryer repair services on an emergency basis as well as through routinely scheduled appointments, for your convenience. We bring you 90-day labor and 1-year parts warranties. When you need LG repair service for your ailing clothes dryer, insist on competent professionals. Call or click today for your LG dryer repair from All Appliance Repair!