Refrigerator Repair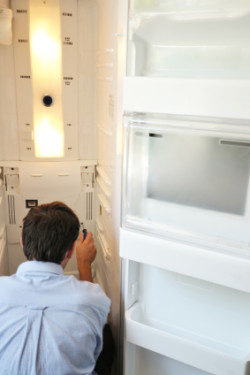 A broken refrigerator can throw your kitchen into turmoil, especially if the malfunction is so serious that you lose everything you're storing inside to spoilage. Luckily, All Appliance Repair is standing by to provide the prompt and accurate refrigerator repair you need to get your unit up and running again. Not only are we fully licensed and insured for fridge repair, but we also hold an A+ rating from the Better Business Bureau and won the Angie's List Super Service Award in 2013. In short, you can count on us for refrigeration repair that means business. Whether your issue is with a refrigerator not cooling or your fridge door won't close all the way, All Appliance Repair is ready to step in. Call us today to schedule your appointment!
Is your fridge's interior light failing to turn on or off? Is your refrigerator too warm or too cold? Has the unit started making unusual noises? Whatever the case, we have the knowledge and skill to meet your refrigerator repair needs. We're equipped to handle all sorts of fridge repairs. After a thorough examination of your appliance, we'll start the repair process, which may include fixing or replacing components such as:
Evaporator fan
Condenser fan
Door seals
Thermostat
Door switch
Defrost timer
Coolant
Compressor
We'll put our training and expertise to the task of pinpointing the source of your issues and giving you fridge repair that lasts. We'll also stand behind our refrigerator repairs with a 90-day warranty on labor and a 1-year warranty on parts. It's all part of our ongoing effort to be the St. Augustine area's most reliable source for residential fridge repairs and more.
40 Years in Fridge Repair Service
All Appliance Repair was founded in 1975. That means we have four decades of experience in refrigeration repair. We've seen just about every issue that can keep a fridge from working as it should. We've also watched appliances improve and become more technologically advanced. Whether your needed refrigerator repairs are for a durable, 15-year-old model or a brand-new, state-of-the-art model, All Appliance Repair has you covered. 
Call or e-mail us now to learn more about what sets us apart from other refrigerator repair service providers in the region! We'll be happy to answer any questions you have, and then we'll schedule the earliest appointment that meets your needs. We're even available for emergency refrigeration repairs if you simply can't wait to get a technician out to your home. Our goal is to restore your kitchen to its full capacity, and we're standing by to take your call. 
Refrigeration Repair
Refridgerator Repair
Refrigerators Repair