Washing Machine Repair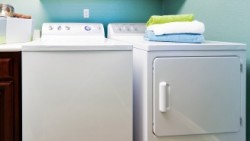 Washing machines are one of the best time-saving conveniences of the modern age. With a functioning washer in your laundry room, you won't have to spend hours scrubbing clothes and linens by hand or waiting at the laundromat for a washer to open up. But with a broken washing machine, all of that ease and convenience goes out the window. If your laundry room isn't running like the well-oiled machine it should be, it's time to call for backup. In and around St. Augustine, your best source for skilled and knowledgeable washing machine repair is All Appliance Repair. We have 40 years of experience in washer repair, and we work with all major brands and models. When it comes to washing machine repair service, we know our stuff. Call today to learn more!
Common broken washing machine problems that lead people to contact All Appliance Repair include:
Washing machine not draining
Washing machine not filling
Washing machine not spinning
Washer not turning on at all
Leaks
Strange odors
Unusual noises
Any of these issues can be cause for washing machine repair, and when you call All Appliance Repair, we'll get someone out to your home as soon as possible to start the job. We'll always start the washer repair process with a thorough examination of your malfunctioning appliance, making sure we know exactly what part is causing the issues you're experiencing. When we come up with a plan of action for your washing machine repairs, you can trust us for accurate and effective results.
Licensed & Insured Washer Repair Service
All Appliance Repair is fully licensed and insured for all of the services we offer, including washing machine repairs. You can trust us to solve your washer problems without causing any collateral damage to your appliance or your home. You can also trust us to adhere to all necessary safety precautions. We've earned an A+ rating from the Better Business Bureau and a 2013 Angie's List Super Service Award, both of which are a testament to the superior washer repair service we provide.
Worried about paying for washer repairs only to have your problem recur within a couple weeks? All Appliance Repair guarantees our washer repairs with a 90-day warranty on labor and a 1-year warranty on any parts we install. We want to ensure your long-term satisfaction with your washing machine and with our washer repair service, and that means standing behind the work we do.
If you're ready to schedule your Bosch washing machine repair, LG washing machine repair, or other washing machine repair service, All Appliance Repair is eager to hear from you. We'll get your laundry room back in action as soon as possible! Call now.
Washing Machine Repairs
Washer Repair
Washing Machines Repairs